The Gemstone Program is housed in Ellicott Hall on North Campus. Most Gemstone freshmen are guaranteed a space in Ellicott as long as they submit their housing application by the advertised deadline.
Approximately 90% of Gemstone freshmen choose to live in Ellicott Hall. Gemstone staff offices and team meeting rooms are also located in Ellicott Hall.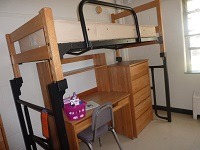 Ellicott Hall is an eight-story, coed, traditional style hall that accommodates close to 607 residents. Rooms range in size from single, double, triple and quad and each floor has a large community bathroom for residents to share. Located nearby are the Stadium and the Campus Recreation Center. 
The Dining Hall is also located in the community, and a convenience store is only a few minutes away. Most academic buildings and libraries are less than a 15-minute walk away and the University Shuttle makes frequent stops in the community for overall safety and convenience.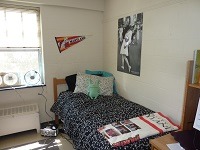 For more information on the University Housing Policy, please refer to the the University of Maryland Resident Life's home page.